Martin Van Buren Mullen (1838-1920)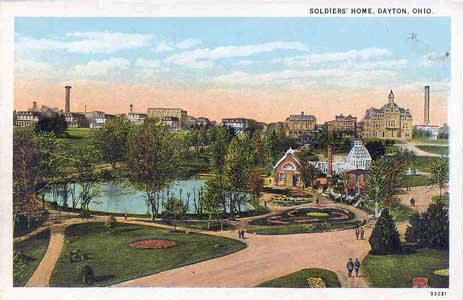 Martin Van Buren Mullen was born in Ohio in 1838 and died in 1920 at a Military Home in Dayton, Ohio. He married Louisa Chapin (1841-1901), daughter of Riley Chapin and Zuba Locke. Martin Van Buren and Louisa are both buried at Union Cemetery in Columbus, Ohio.
Martin Van Buren served in the 46th regiment of the Ohio Volunteer Infantry during the Civil War.
Martin and Louisa's children included Frank (b. 1862 in Ohio), Elizabeth (b. 1864), Hattie (b. 1866), Norman (b. 1871), Ida (b. 1870), Justin (b. 1875), Laura (b. 1876), Worthington (b. 1879) and Edith (b. 1884).
More info on the children:
1. Frank married Ida May Dill in Ohio and they had Mabel (b. 1889), Lillian (b. 1893), Bertha (b. 1895), Louisa (1898-1917), Etta Belle (b. 1901), Frank B. (b. 1904), Hilda (b. 1907), Ruth (b. 1911), John (b. 1915) and Kenneth (b. 1918).
2. Elizabeth (d. 1929) married William Perry Reiner. They are buried in Union Cemetery in Columbus, Ohio.
3. Hattie was born in Worthington, Ohio, and died in 1943 in Wheeling, West Virginia. She married William Winder Nelson, son of A. Nelson and Tamer Harris. Hattie and William had George William Nelson (1884-1953), Lottie Lee (b. 1886; d. 1886 in Wheeling), Camden Newland (1888-1957), Elmer (1890-1892), Clarence (1892-1894), Edward (1895-1897 in Wheeling), Jepson Lawrence (1897-1956), Clara L. (1904-1991 in Moundsville, W.V.), Paul Burdette (1903-1991 in Moundsville, WV) and Tamar Lydia (1906-1977 in Wheeling).
4. Norman married Ida (Unknown) and had Charles H. (b.1907) and Louisa (b. 1909).
5. Ida--
6. Justin married Etta B. (Unknown).
7. Laura--
8. Worthington--
9. Edith--
To find out more information about Martin van Buren's children, click on the name.