Thomas Blackburn Mullen (1834-1908)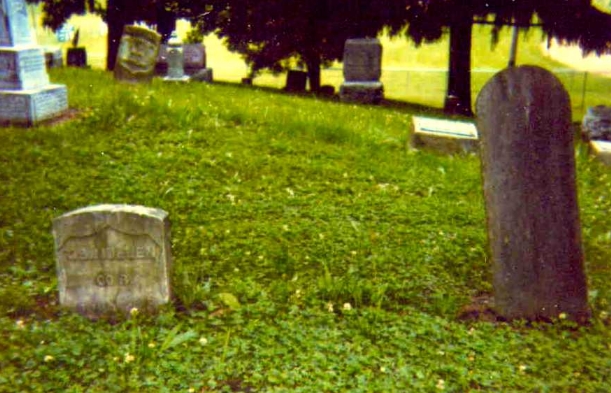 Thomas Blackburn Mullen and Berilla's graves in Albion Cemetery, Albion, Indiana
Thomas Blackburn Mullen was the son of Jacob and Catherine Mullen. He was born in Ohio in 1834 and died in 1908 in Albion, Noble County, Indiana. He married Berrilla M. Kirkpatrick (1837-1914) , the daughter of Alex Kirkpatrick and Hannah Sutton.
Thomas Blackburn Mullen served in the 9th Regiment of the Indiana Volunteer Infantry in the Civil War.
Thomas and Berrilla's older children were born in Delaware Co., Ohio, while the younger children were born in Noble County, Indiana. The children are Eva (?), Oscar Sylvester (b.1856 in Delaware Co.), Alexander (b. 1858 in Delaware Co.), John (b. 1861 in Delaware Co.), Millicent (1866), Amanda D. (b. 1867), Thomas Berton (b. 1869), Sarah Adelle (b. 1873) and Charles Henry (b. 1882).
The children:
1. Eva is believed to have married Ambrose Lemmon in 1889 and Richard Wade in 1899.
2. Oscar (1856-1922) Married Catherine Poyser in 1892 and then Cora Moore the same year. He is buried in Rose Hill Cemetery in Noble Indiana.
3. Alexander is noted as living in Kentucky in 1922.
4. John--
5. Millicent married Martin Winebrenner in 1895 in Noble Co. Indiana.
6. Amanda married James Landgraff and their child was Cleo Landgraff.
7. Thomas died in 1944. He married Millicent Cullars and their child is Charles Mullen
8. Sarah Adelle (d. 1952 in Elkhart, Indiana). She married Schuyler Hilliard and later James Henry Stevens. Her child was Fred Dale Hilliard.
9. Charles Henry died in 1950 in Kendallville, Indiana. He married Mary Marguite Seng Their children were June Marie Mullen and Hugh Thomas Mullen.
Click on the name to see more.