Hattie Mullen (1866-1943)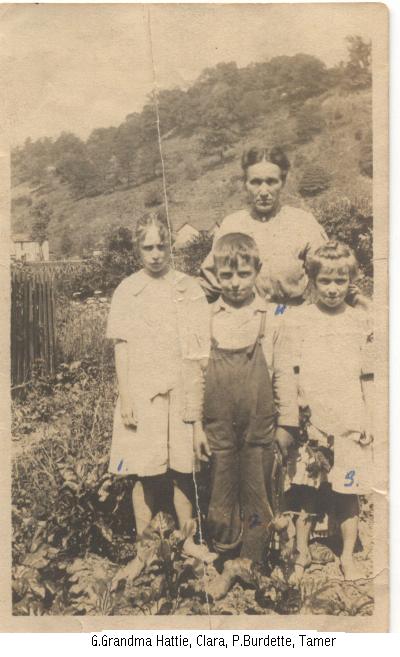 Hattie Mullen was the daughter of Martin van Buren Mullen (1838-1920) and Louisa Chapin (1841-1901). Hattie was born in Worthington, Ohio, and married William Winder Nelson (1860-1914). They died in West Virginia and are buried in Stone Church Cemetery in Wheeling.
Hattie and William Nelson had10 children:
1.George William Nelson was born in 1884 in Triadelphia, West Virginia and died in 1953 in Mansfield, Ohio. He married Elizabeth Idabelle Gay (1890-1951) in 1912 in Columbus, Ohio. They had Doris Marie Nelson (1912-1958), Wilma Jean Nelson (1913- ), and George William Nelson, Jr. (1916-1935).
2. Lottie Nelson was born and died in 1886 in Wheeling.
3. Camden Newland Nelson was born in 1888 in Wheeling and died in 1957. He married Pearl May Amos (1889-1979). They had Hattie Virginia Nelson (1908-1989) who married (Unknown) Kummer., Hannah May Nelson (1910-1987) who married (Unknown) White, Reginia Delala Nelson (1913-1916), William James Nelson (1917-1976), Clara Lydia Nelson (1920- ) who married (Unknown) Widmer, Naomi Pearl Nelson (1925- ) who married (Unknown) Bloomfield.
4 Jepson Lawrence Nelson (1897-1956) married Dora May White (1898-1973) in Wheeling. They had Robert Nelson (1918-1958), Lawrence Nelson (1920-1991), Pauline May Nelson (1921- ) who married (Unknown Jackson), Joseph Shields Nelson (1923- ), Dorothy Eileen Nelson (1924- ) who married (Unknown Nicholson), Wanda Ruth Nelson (1926- ) who married (Unknown Tubaugh), Helen Joyce Nelson (1928-2002), Jepson Lawrence Nelson, Jr. (1931-1934) and Deanna Kay Nelson (1938- ) who married (Unknown Parsons).
5. Clara L. Nelson (1904-1988) married William A. Fischer (1900-1978) in Wheeling. They had Betty Lou Fischer (1922- ) and William Nelson Fischer (1925- ).
6. Paul Burdette Nelson (1903-1991) married Esther E. Porter and later married Frances (Unknown). The children of Paul and Esther are Dorothy Ross Nelson (1924- ), Paul B. Nelson (1929-1992), William Nelson, and Joyce Nelson. Paul and his second wife Frances had Gary Nelson (b.abt. 1965- ).
7. Tamar Lydia Nelson (1906-1977) married Hobart Walters. They had William Walters (1924- ), Charles Walters (1926- ), Ruthael Walters (1928- ) and Edith Walters.
8. Elmer Nelson was born in 1890 and died in 1892.
9. Clarence Nelson was born in 1892 and died in 1894.
10. Edward Nelson was born in 1895 and died in 1897.
To find out more about Hattie's children, click on the name.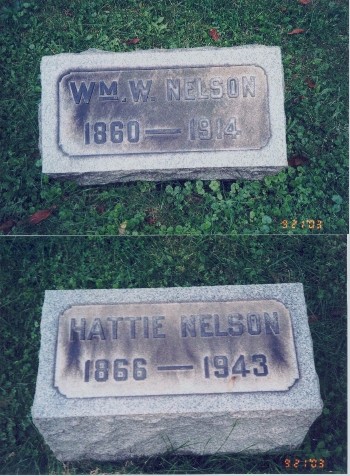 Hattie Mullen Nelson and William Winder Nelson's graves--Stone Church Cemetery in Wheeling, WV.