Descendents of Thomas and Rebecca Mullen of Delaware County, Ohio
Sarah Elizabeth Mullen Perry family
Thomas Blackburn Mullen family
Dorothy Bell Miller Rush family
Martin van Buren Mullen family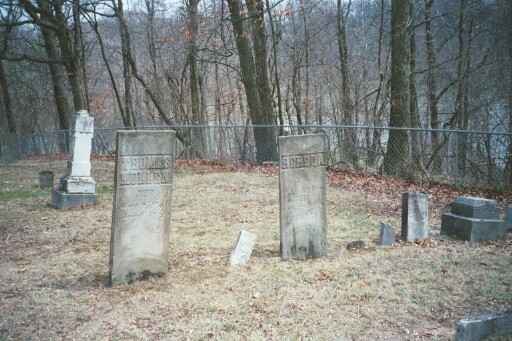 Thomas (1782-1831) and Rebecca (1784-1849) Mullen came to the Central Ohio region very early in the 1800's and settled in Genoa Twp. in Delaware County. They came from Luzerne County, Pennsylvania. The above picture was taken at Red Bank Cemetery in Genoa Twp., Delaware Co. Ohio.
Thomas and Rebecca had the following children: John (b. abt.1799), Henry (b. abt.1800), an unknown sister, Thomas (b.abt 1809), Oliver (b.1809), Jacob (b. 1811), Enoch (b.1813), James Mullen (b. abt.1816), Ezekiel (b. 1818), William (b, 1819) and Aden (b.1820). When Thomas died in 1831, the guardianship of the minor children was given to a neighbor, William Budd.
More information on the children:
1. John (b. abt.1799) was born in Pennsylvania and married Catherine. Their children are Washington (abt. 1826), Thomas (abt.1827), Emery (abt. 1830), Silas (abt. 1836) and Thornton (abt. 1843). John and Catherine died in Van Wert Co., Ohio.
2. Henry (b. abt. 1800--?) married Nancy Decker and moved to Coles Co., Illinois.
3. Benjamin (abt. 1806) married Elizabeth . They had Francis (b. 1831), Isaiah (b. 1832), Mariah (b. 1833), Charity (b.1836), Esra (b. 1838), Rhoda (b. 1841), Phebe (b. 1844) and John H. (b. 1849). All the children were born in Ohio. The family moved to Cumberland Co., Illinois before 1850. (Note: not sure if Benjamin is the son of Thomas and Rebecca Mullen. He is shown in the 1830 census in Genoa Twp., Delaware Co., Ohio.)
4. Thomas--
5. Enoch (b. abt. 1813; d. 1878) was born in Ohio. Enoch married (1) Elizabeth Sherborn and (2) Almeda Matthews and they had Lewis (b. 1859), Levi (b. 1864), Sanford (b.1870), Mary (b. 1870), Alvin (b. 1872), Melissa (b.1873) and Huldah (b. 1874). Enoch died in Van Wert, Ohio in 1878. After his death Almeda Matthews married George Hoover in 1881 in Van Wert, Ohio. Levi married Mary Sheely in 1885, Huldah married Newton Crogan in 1890 and Melissa married William Carlisle in 1897 all marriages in Van Wert Co., Ohio
6. James (b. abt 1815) was born in Ohio and married Susan Smothers in 1843.
7. Ezekiel (b. abt 1818; d.1862) married (1) Rachel Wilson, (2) Julia Ann Rogers and (3) Emeline Meeker. He died in a Union military hospital in 1862.
8. William--
To see information on these children, click the links below.
Oliver Mullen Jacob Mullen Aden Mullen Henry Mullen
Thomas's brothers, Benjamin Mullen (b. abt. 1775) and James Mullen (b. abt 1774) and their wives also came to Central Ohio along with their children. Benjamin moved to Hancock Co., Ohio in 1831. His children were: John, Thomas, Elizabeth, Rhoda and Margaret. Elizabeth married Jonathan Lee in 1828 in Franklin Co. and Rhoda married Zebulon Lee in 1827 in Franklin Co.
To find out more about the James Mullen family, click here: James Mullen
Thomas and James Mullen were the sons of James and Elizabeth Mullen of Pennsylvania. To find out more about the family, click here: James Mullen--father of Thomas and James
Thomas and Rebecca had lived in Luzerne County in the Wyoming Valley in Pennsylvania along with their neighbor William Budd and a few other settlers in the Genoa and Harlem township area. In 1778-1779 the settlers of the Wyoming Valley were attacked by a force of British soldiers along with a group of Native Americans. To read more about this event, click here Wyoming Valley Massacre To find out more about why so many people from Luzerne Co., Pennsylvania, settled in Delaware County, Ohio, see this link Revolutionary War Vets in Delaware Co. Cemeteries
The information for the site is courtesy of the following researchers: Tina Czopek, Tom Stevens, Barbara Kroll, Kathy White, Joan Sturner, Nena Smothers, Gil Mullen, Pam Sloan, Kevin Vap and Donna Ferrell. Although we believe the information provided is correct, researchers in genealogy know that additional evidence sometimes turns up.
If you have information to help us out, please e-mail Donna Ferrell
Page updated Dec. 2006.