Cornelius Mullen (1835-1926)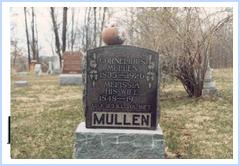 Cornelius Mullen was born on April 26, 1835 in Delaware County, Ohio, to Henry Mullen and Nancy Decker. He died in Cumberland County, Illinois, on August 16, 1926. He married Martha Louthan in 1856 and then married Martha Louden (daughter of Thomas and Sarah Louden) in April 1859 in Coles County, Illinois. His third wife was Melissa David (daughter of Joseph David and Mary Buchanan) whom he married in May 1879. Cornelius and Melissa had the following children:
1. Hiram Oscar Mullen (b.abt. 1859) married Mary C. Wilson in Coles County, Illinois in 1879.
2. Orval Mullen (b. 1875; d. 1960 in Decatur, Illinois) married Myrtle Shelly in 1903 in Coles County, Illinois. Orval and Myrtle Mullen had Ethel Lucile Mullen (1906-1959), Lorn Howard Mullen (1908-1977), Nellie Estelene Mullen (1910- ), and Lester Lawrence Mullen (1913-1983)
3. William Perry Mullen (b. 1880 in Cumberland County; d. 1960 in Clark County, Illinois) married (1) Ollie May Kemper (daughter of Simon and Artemecia Kemper) in 1903, (2) Minnie Elizabeth Shafer (daughter of William Shafer and Elizabeth Hall) in 1908. William Perry Mullen and Ollie Kemper had Nora Mullen (1904-1989) and Virgil Mullen (1906). William Perry Mullen and Minnie Shafer had Vernie Victor Mullen (1909-1910), Mary Marie Mullen (1911-1988), Leslie Raymond Mullen (1915-- ), and Ernest Earl Mullen (1919-- )
4. John S. Mullen (b.1882; d. 1883).
5. Earl Mullen (b.1884; d. 1907)
6. Pearly Mullen (b. 1884; d.1885)
To find out more about the families of these children, click on the links.